Explore the music you love with the vintage guitars you love.
We are Australia's most trusted source of premium quality vintage guitars, basses and amps selling to customers globally.
Our customers receive friendly advice and service to make the experience of purchasing a vintage guitar a beneficial experience over the longer term.
If you are looking for a vintage Fender tweed amplifier or that special vintage Fender Stratocaster or Gibson Les Paul, feel free to browse our extensive collection on the following pages.
Whether you are looking to purchase as a player or an investor, call Travis on 0499 498 111 to discuss your options.
If you are calling from outside Australia, the number is +61 499 498 111.
---
---
Are you looking to sell your collection of vintage guitars and amps?
Vintage Electric now offers Australia's most efficient sale process with 10% commission on sales.
Following payment of a small upfront fee for photography, valuation, description and uploading, once your vintage guitar or amp sells, you receive 90% of the agreed sale price.
We manage all shipping, customs and fees upon sale;
No strangers visiting your home;
We have consigning clients in;

Sydney, New South Wales

Newcastle, New South Wales

Byron Bay, New South Wales

Melbourne, Victoria

Brisbane, Queensland

Gold Coast, Queensland

Toowoomba, Queensland

Perth, Western Australia
---
---
1954 Fender Stratocaster

1954 Fender Telecaster Blackguard

1959 Gibson Les Paul Jr

1961 Fender Jazzmaster

1971 Gibson Les Paul Custom Black Beauty

1973 Fender Precision Bass Black

1980 Gibson Flying V2 Maple and Walnut

1981 Gibson Les Paul Custom Black Beauty

1989 Fernandez TEJ-70

1990 Jackson Flying V RR5 Japan

2018 Gibson Les Paul Deluxe Goldtop
---
---
---
---
---
---
---
---
---
---
---
---
---
---
---
---
---

In 1949, Leo Fender began work on a solid body electric guitar using pickups from his lap steel guitars.
In 1950, Fender released the Broadcaster along with the Esquire, a single pickup model. Then in February of the following year, the Broadcaster was sold for 7 months simply as the Fender guitar ('Nocaster') with no name.
In September 1951, Fender renamed the Broadcaster to Telecaster. This particular Fender Telecaster is part of that history, one of only approximately 200 pieces made.
---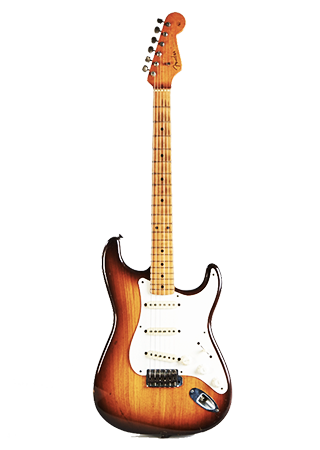 Following the introduction of the Broadcaster in 1950 and the Telecaster in 1951 respectively, three years later, Leo Fender would create the Fender Stratocaster, a hand-crafted masterpiece that is arguably the most popular electric guitar in musical history.
The Stratocaster had many refinements, including three newly designed single coil pickups, a floating tremolo bridge, more tonal choices for players and a contoured body for player comfort. Despite the fact Leo Fender could not play a musical note, he had now invented two of the most iconic musical instruments of the 20th century.
To this day, the Stratocaster has maintained a level of quality and reverence above all subsequently produced electric guitars.
---
Easily the centrepiece of any vintage guitar collection, this 1961 Fender Stratocaster owned by Vic Flick comes with a remarkable pedigree of musical history. 36 pages of songs credited to Vic Flick are included in the case.
All of the most desirable features including a slab Brazilian rosewood board with a 7.25″ radius, the green guard and original pickups, this piece is part of musical history that can never be replaced.
Finding another 1961 Fender Stratocaster with as many musical credits as this guitar would be difficult.
---

A decade after the introduction of what was arguably one of Leo Fender's greatest inventions, the Fender Stratocaster had evolved significantly from the maple board equivalents of a decade earlier.
Depending on your viewpoint of the L-series range, these guitars were more refined after a few key evolutionary developments over the preceding decade. Mid-way through 1962, Fender changed the design of the board from a slab with a straight bottom connected to the maple neck to a veneer which was curved over the neck at a 7.25″ radius.
The resulting guitars between 1963 and 1965 are very highly regarded by collectors prior to the sale to CBS.
---

This Gibson Les Paul was the 13th guitar made by Gibson in 1963. As such it shares a lot of 1962 components including the sideways vibrola which is in good working condition.
This particular piece also features three high output 'PAF' (Patent Applied For) pickups which are noticeable for their distinctive tone, a three screw scratch plate, a feature of 1961 and 1962 Customs.
Hence it is most likely this piece was made in 1962 and remained in the factory before a serial was placed on it in the first production line of January 1963.
---

This Fender Jazz Bass was our first bass purchased as a collectible instrument for our site.
The finish, fretboard, metal parts were all in stunning condition, and the bass itself sounds fantastic. The main point of difference with this bass compared to typical L-Series Fender Jazz Basses was the rosewood in the fretboard was not Brazilian in origin.
Nonetheless, this does not detract too much from it's value as a collectible instrument. A mint condition piece that came with it's original case and paperwork.
This very popular Jazz Bass wrote its way into musical history for a reason.
---
To keep up to date on our latest vintage guitar and amp releases, simply follow us on Facebook or Instagram by clicking on the links below: